Sustainable fashion is a movement that started back in 1962 with the publication of the book Silent Spring by  Rachel Louise Carson. She was not a fashion icon but rather a scientist, a marine biologist, and a conservationist. She raised her concerns on how the chemicals and pesticides used in agriculture were affecting the environment. Her writings helped advance the global environmental movement. At that time, it was a more generic approach. But the Rio Earth Summit happened and fashion, textiles and their wasteful ways started to be displayed as "green issues".
Some took the lead and started working towards a more sustainable fashion industry from different perspectives. These are some of the voices we admire, follow, and read because their words and their actions create change. At least within us.
OUR TOP SUSTAINABLE FASHION VOICES
Sass Brown
Sass Brown was the founding Dean of the Dubai Institute of Design and Innovation. She is an amazing researcher, writer, and educator. Brown set up herself as a designer with her own signature collection. Ethical fashion is her area of expertise. A pioneer and die-hard fashionista, she has distributed papers and spoken extensively about sustainable fashion, she has filled in as a sustainable designer counselor to women's cooperatives, educational institutions, etc.. all this, when no one spoke about sustainable or ethical fashion.
She wrote two books that are the Bibles of Sustainable Fashion: Eco Fashion and Refashioned. In Dubai, we miss very much her energy and enthusiasm to shift things and push boundaries. As she came to give shape and launch an iconic educational institution: DiDi.
Simone Cipriani
Simone Cipriani is the founder and Head of the Ethical Fashion Initiative (ETI), which is part of a joint agency of the United Nations and the WTO. In 2013, Simone Cipriani was included in Business of Fashion's list of 500 People Shaping the Global Fashion Industry.
The Ethical Fashion Initiative goes about as a bridge, connecting underestimated craftsmen with top designers like Stella McCartney or Vivienne Westwood.  According to their website," is a leading alliance of companies, trade unions, and NGOs that promotes respect for workers' rights around the globe. Our vision is a world where all workers are free from exploitation and discrimination, and enjoy conditions of freedom, security, and equity."
Their mission is to move in the direction of the sustainable development goals and make a huge impact on the networks in which they work. ETI wants to bring pride to the lives of the people who make your garments. Today, through his work at the Ethical Fashion Initiative, Simone Cipriani has turned into a key representative at the front line of the worldwide development for ethical supply chains in the fashion industry.
Safia Minney
Safia Minney is a social entrepreneur and author. You might remember her from The True Cost. This inspiring lady is the founder of People Tree, much more than just a gorgeous fashion brand. Fair trade, fair wages, good working conditions, transparency, environmental best practices, gender equality…  All this is at the very core of People Tree and that is why it sets a standard for conventional fashion companies wanting to improve their supply chains.
Additionally, Safia is a keynote speaker, a consultant on everything sustainable, and a campaigner on fair trade and ethical fashion. She initiated World Fair Trade Day in 1999. She also wrote and co-authored a couple of books. Naked Fashion, The Sustainable Fashion Revolution, Slow Fashion, Aesthetics meets Ethics and Slave to Fashion.  
Livia Firth
Livia Firth is the founder and Creative Director of Eco-Age, a consultancy that empowers organizations to accomplish development by adding value through sustainability. She is also the organizer of the Green Carpet Challenge. Don´t know what is that? You might have seen celebrities wearing beautiful pieces that were sustainable. Yep! Caring is not at odds with being stylish. We need to break the stereotype that sustainable fashion is not "fashionable". Is it familiar? Pretty much as what we intend to do with Goshopia with our 4th S. From her position, she helps raise awareness and funding to important causes. For example, she founded together with Annie Lennox The Circle. An organization where women support women and we fight together for our rights and our growth. She also produced The True Cost. One movie we will never stop recommending.
She is also Oxfam Global Ambassador, UN Leader of Change,  awarded the Rainforest Alliance Award for Outstanding Achievement in Sustainability and the Honorary Award of the National German Sustainability Foundation. Now we can read her articles in Vogue Arabia as she is Sustainability Editor at large. Yey!
Elizabeth L. Cline
Elizabeth L. Cline is a New York-based author, writer, and expert on consumer culture, fast fashion, sustainability and work rights. She runs an effective online clothing resale business on eBay and Poshmark. She has widely examined the clothing waste stream in both New York City and Nairobi, Kenya. Her first book Overdressed: The Shockingly High Cost of Cheap Fashion uncovered the effects of fast fashion on nature, economy, and society. It was really eye-opening! In her second book The Conscious Closet: A Revolutionary Guide to Looking Good While Doing Good Cline talks about new research on fashion's effects and demonstrates how we can use our ordinary fashion decisions to change the clothing business and improve the world. Inspiring and powerful!
Javier Goyeneche
Javier Goyeneche is the founder of ECOALF, launched in 2013. The Spanish fashion brand turns disposed fishing nets, plastic bottles, and coffee into garments. This company has developed consistently and now delivers a collection of outerwear, swimwear, casual clothing, shoes, and accessories. They have created more than 98 diverse reused fabrics which are exactly the same to touch as a typical fabric. They fundamentally need 70 bottles to make 1 meter of fabric and 80 bottles to create one jacket. To expand the production and brand image Ecoalf has made coordinated efforts with organizations like Apple, Swatch, and other brands.
Marci Zaroff
Marci Zaroff first the first person who coined and trademarked "Eco fashion" in 1995. She is the founder of the sustainable lifestyle brand Under the Canopy and now Metawear. Her brands deal with women's clothing, men's wear, children, home, and accessories. Her mission is to change the fashion business through education, motivation, coordinated effort, and innovation. She wrote a book called "Eco-Renaissance," which is about co-creating a stylish and sustainable world. This powerhouse also produced Thread and the short film "Driving Fashion Forward with Amber Valletta". 
Marie Claire Daveu
Marie-Claire Daveu is Kering's chief sustainability official and head of global institutional affairs from 2012. In case the name is not familiar, Kering is a luxury group that holds brands like Gucci, Yves Saint Laurent, Balenciaga, Alexander McQueen, Louis Vuitton… It translates to LUXURY in big caps. And there, she is in charge of the advancement of Kering's sustainable strategy and the direction of the Group's institutional issues. Luxury had constantly started the trends that stream down through the rest of the fashion universe. Marie Claire Daveu hopes that these efforts get seen, appreciated, and replicated not only in our industry but everywhere else. Her initiatives cover also education such as the course Kering is doing together with the Center of Sustainable Fashion and that you can join free.
But let me tell you more about this amazing lady. She has served many Ministers and Councils in France and knows very well the ins and outs of sustainability as her first degree was about Rural Engineering, Water and Forests. She has a deep understanding of the origins of the materials and how to take care of our ecosystems no matter the industry.
Lucy Siegle
Lucy Siegle is an author, journalist, and presenter based in London. From The Observer, Thr Guardian to the BBC´s The One Show she has been sharing her passion for sustainable living and social justice. She has authored and co-authored four books: Green Living in the Urban Jungle (2001), A Good Life (Guardian books, contributing author), To Die For: is fashion wearing out the world? (2011) and Turning the tide on plastic (2018). Together with Livia Firth, she is also one of the executive producers of The True Cost and organizer of the Green Carpet Challenge.
⇒You might enjoy this article!
Eva Kruse
Eva Kruse is the president and CEO of Global Fashion Agenda (GFA) and the Copenhagen Fashion Summit. GFA is the leading authority for industry coordinated effort on sustainability in design. Its central goal is to make sustainability in vogue, guide, and support industry pioneers in changing the manner in which they produce, market, and distribute fashion. Kruse has worked ambitiously to push this motivation globally. She was also part of the media, as editor-in-chief of Eurowoman and as a TV presenter on the Danish broadcasting networks TV2 and TV3.
In 2013, Kruse gave a TEDx Talk on the topic "Changing the world through fashion" in which she advocated all of us, that not only companies and politicians, should be at the forefront of sustainability efforts. It is very inspiring! Check it out here.
Andrew Morgan
Andrew Morgan is a universally recognized award-winning movie director and producer focused on sharing stories for a better tomorrow. With The True Cost, he was awarded a Sustainability in Film Award. This docu movie that we love so much talks about aspects of the clothing industry from production to its after-effects. Water and soil contamination, pesticide pollution, disease, poverty, and death. The True Cost uncovered the global fashion industry's dark side. Morgan was attracted to these themes. So, he began the undertaking and made a trip to thirteen nations to gather information and conduct interviews. The results are Wow!
Vincent Vittorio
Vincent Vittorio is one of the Co-Executive Producers of The True Cost. He is also the founder of Life Is My Movie Entertainment. It is a documentary studio creating, delivering, obtaining, and circulating captivating non-fictional films. He and his group trust in the positive impact a movie can have on society and we couldn't agree more with them. Check his latest movie called The New Breed about social entrepreneurs and conscious capitalism.
Amy Ann Cadwell
Amy Ann Cadwell is CEO and Co-Founder of The Good Trade, a digital media and lifestyle brand covering sustainable fashion, wellbeing, money, and lifestyle. She wanted to create and utilized that enthusiasm for her passion for sustainable development. The True Cost showed her the dull underbelly of fast fashion, and it indicted her to use her graduate work in the direction of solving labor issues and advancing sustainability in the fashion business.
Of course, within this list of sustainable fashion voices, we had to include the founders of Fashion Revolution and Remake. Two organizations that we are active in and we feel deeply grateful for. They helped us open our eyes to the ugly truth of fast fashion and make us feel part of a community of people believing that fashion can be a force for good.
Ayesha Barenblat
The lovely founder of Remake, of which we are proud ambassadors, is a social entrepreneur with a passion for building sustainable supply chains that respect people and our planet. She has been promoting social justice and sustainability within the fashion industry for over a decade already. And decided to start Remake to ignite a conscious consumer movement. Ayesha is passionate about where things come from, who made them, and what their lives are like. She has worked with brands, governments, and labor advocates to improve the lives of the women who make our clothes. As ambassadors of Remake, we have done some gorgeous events and will continue doing more when life goes back to a new normal.
Orsola de Castro
Orsola de Castro is an internationally recognized opinion leader in sustainable fashion. Her career started as a designer with the pioneering upcycling label From Somewhere, which she launched in 1997 until 2014. 
Her designer collaborations include collections for Jigsaw, Tesco, Speedo, and 4 best selling capsule collections for Topshop from 2012 to 2014. In 2006, she co-founded the British Fashion Council initiative Estethica at London Fashion Week, which she curated until 2014. 
In 2013, with Carry Somers, she founded Fashion Revolution, a global campaign with participation in over 100 countries around the world. Orsola is a regular keynote speaker and mentor, Associate Lecturer at UAL, as well as Central Saint Martins Visiting Fellow.
⇒You might enjoy this article!
Carry Sommers
Carry Somers was inspired to act after the Rana Plaza factory collapse in Bangladesh in 2013 and founded Fashion Revolution. For the previous 20 years, Carry's fashion brand Pachacuti- gorgeous Panama hats!- had pioneered radical supply chain transparency, mapping the GPS coordinates of each stage of the production process, from the community plantations where the straw grows, through to each Panama hat weaver's house. Championing the traditions, quality, and craftsmanship of the Andes, her collections were at the most important fashion weeks and sold in some of the world's most luxurious stores. Carry has contributed to several books and publications, won numerous awards for her work, and met the Queen in recognition of her significant contribution to British business.
Clare Press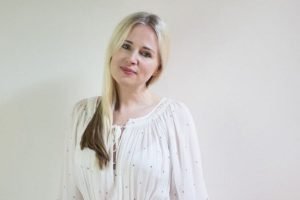 She had to be part of our list of favorite Sustainable Fashion Voices. Clare is the host and founder of the Wardrobe Crisis podcast in 2017, a podcast we love and follow. A Sydney-based, British journalist, author, and activist. In 2018, she became the first-ever VOGUE Sustainability Editor – a pioneering role in international media.
Clare is a Global Ambassador for the Ellen MacArthur Foundation's Make Fashion Circular initiative and is part of the Fashion Roundtable team in the UK. She has been a member of the Australian advisory board of Fashion Revolution since 2014. She sits on Copenhagen Fashion Week's Sustainability Advisory Board and is one of Global Fashion Agenda's Content Experts. In 2019, she was named one of the Australian Financial Review's 100 Women of Influence and won the Green Globe Sustainability Champion Award.
If all these credentials are not enough, she is also the author of three books. The Dressing Table ( 2011), Wardrobe Crisis, How We Went From Sunday Best to Fast Fashion and Rise & Resist, How to change the world about activism (2018).
⇒Read our selection of best books on Sustainable Fashion
Kerry Bannigan
Founder of the Conscious Fashion Campaign and working together with the United Nations Office for Partnerships. She puts together events that drive impact to important causes. In her own words "we are facing important global challenges, including poverty, inequality, climate change, environmental degradation, peace, and justice. We know the fashion industry heavily impacts on most, if not all of these challenges. So, the potential for change when you engage the fashion industry is exponential. If we work together to shape the future of fashion, we will create dynamic impact, innovative lasting change, and deliver on our core mission to make the Sustainable Development Goals a reality and make the next decade the most impactful yet."
Kestrel Jenkins
She started interning with People Tree in London. From that point on, she knew the only world she wanted to live in was one where she could embrace her style without sacrificing her values. We feel you Kestrel! This is why we started Goshopia too!
Kestrel is a storyteller & conscious style maven who believes fashion + ethics can jive, and maybe even thrive together. For over a decade, she's been enthralled with asking questions about where our clothes are made, what they are made of, and who made them. Her podcast Conscious Chatter is fantastic!
Christina Dean
Dr. Christina Dean is the Founder and CEO of Redress, an NGO with a mission to promote environmental sustainability in the fashion industry. Christina is a regular speaker at seminars. She was listed by U.S. online magazine Coco Eco as one of '2010s Most Influential Women in Green' and by U.K. Vogue as one of the U.K.'s 'Top 30 Inspirational Women'. Prior to founding Redress, Christina was a journalist and a practicing dental surgeon.
I am sure we are forgetting someone because we love the topic and we get information from all over the place. So, no worries because we will keep on updating the list. If you want to nominate someone to be part of the list, just send us an email here.
LIKED THIS ARTICLE?
Then for sure you will love these too!
BEST FILMS ABOUT SUSTAINABLE FASHION EVER
LEAD A BETTER LIFE WITH THESE 15 WELLNESS TIPS
HOW TO CREATE A SUSTAINABLE FASHION SHOW
And remember you can also support sustainable fashion with your purchase. All our brands comply at least with one -if not all- of our 3S´s: Slow, Sustainable & Socially Responsible.