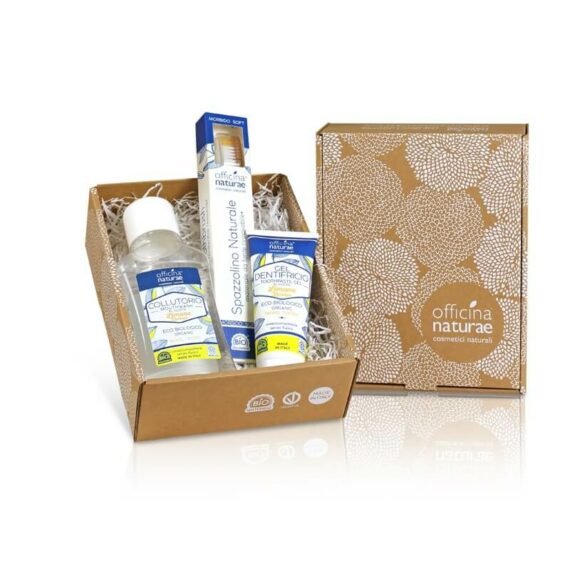 Natural Lemon Oral Care Gift Box
The natural lemon oral gift box comes not just with the perfect toothbrush that is effective and safe but also with toothpaste  suitable to keep your teeth and gums healthy and mouthwash to prevent carries and ensure fresh breath every day.
Even better, it's sustainable! This eco-friendly dental gift box not only does not damage your teeth and gums but also respects the environment! As it will biodegrade, you can dispose of it and get a new one.
22
people are viewing this right now
In Stock
Sold By: Foxy Skin
Great Customer Service, Easy Returns, Over 50 ⭐⭐⭐⭐⭐ Google Reviews and Thousand of beautiful messages on Whastapp!

Natural Lemon Oral Care Gift Box
Description
This natural lemon oral care gift box is a perfect gift for you and your loved ones. It helps your teeth and gums be healthy and helps prevent the formation of dental caries. Keep smiling showing your beautiful teeth and ensure fresh and good-smelling breath every day! This oral gift box is composed of:
Lemon Natural Gel Toothpaste – suitable for all types of mouth. Thanks to consistent use, it helps prevent tartar and plaque buildup.
Lemon Natural Mouthwash –

It helps treat and prevent problems related to dental plaque and tartar. Thanks to the organic essential oils inside the formula, it completes and enhances the proper daily oral hygiene with its intense balsamic and astringent action. 

Eco-friendly Amber Toothbrush – The bristles are soft in order to not damage the dental enamel and irritate gums. The handle is made of wood pulp that does not ease bacteria or mold contamination. The handle is biodegradable! Good for you and good for the environment!
WHAT WE LOVE ABOUT THE NATURAL LEMON ORAL CARE GIFT BOX
100% hygienic and safe
Organic and Vegan
Keeps teeth and gums healthy
Prevents irritation of the gums
Free from chemicals such as Dyes, chlorhexidine, triclosan, fluoride, and SLS/SLES
The Icelandic lichen extract and Zinc Citrate contribute to preventing the formation and removal of plaque and tartar.
Keeps unaltered the physiological balance of mucosa.
The mouthwash includes Stevia Rebaudiana which sweetens without causing tooth decay.
Natural origin ethyl Alcohol, with anti-plaque.
TRY THESE PRODUCTS
Looking for the best beauty hygienic products that are also sustainable and respect your value? Look no further! You can try our camellia oil control shampoo with O'right Bamboo Moisturizing Conditioner, along with NUUD Natural Deodorant after the shower.
For your facial skincare routine try our organic rose revitalizing toner with the Naveen facial cream which reduces wrinkles, improves skin health, and strengthens its natural protection from aging. Top it off with the mineral sunscreen in the morning and you are off to enjoy your day!
ABOUT THE BRAND
Foxy Skin is searching for the best certified organic personal and skincare products. Their values are cruelty-free, natural, certified organic materials, and recyclable packaging. Their brands are selected based on their efficiency and sustainability credentials. Let's work all together to have a greener future! Learn more about them here.
When shipping outside the UAE, items might be subject to import duties & taxes. You are not charged for these at the time of placing the order as they depend on each country's rules & regulations. The carrier will invoice these costs upon delivery, and you will be responsible for their payment.