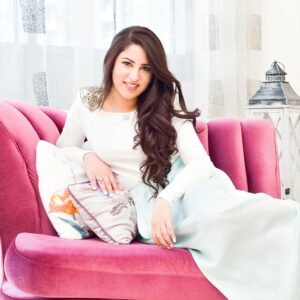 Sheen was founded by Nosheen Bakhsh, a Saudi designer of Kashmiri origin, currently based in Dubai. Her love for jewelry began at a young age, when she would watch her mother adorn her beautiful collection. She started collecting pieces of her own, and developed an enthusiasm for crafting her own beaded bracelets, necklaces and rings, which she would distribute as gifts to family and friends.
It had always been a dream for Nosheen to start a larger-scale project that can assist her in creating awareness and giving back. Sheen is the first step to accomplishing this goal. The concept of Sheen was started as a university project in 2010. In 2011, she graduated with a BFA in Visual Communication (Creative Advertising) and Sheen, "Jewelry for Social Good", was officially launched in September 2013. It serves as a creative and humanitarian outlet for her and is produced locally in the UAE. Her brand aims to raise awareness of good causes by donating a percentage of profits. The jewelry is mostly made in 18K white, rose and yellow gold with a few collections in sterling silver. She uses a variation of precious, semi-precious and synthetic stones.
In 2016, Nosheen completed her Masters Degree at Pratt Institute in Manhattan, New York. 'Aisha' is the first collection since her return. What started as a small dream has now materialized into a much greater idea, a combination of her two passions: jewelry/accessories and humanitarian work.